In Las Vegas, the parties are not only at night, but they also run all day long at the many Las Vegas dayclubs. Because it's Vegas, they have taken the pool party to a new level with beautiful people, super soakers full of champagne, and some of the best DJs, EDM, hip hop and entertainment the city has to offer. These parties can be packed and are often hard to get into due to their popularity. This guide will help you find the best day club for you and tell you how to get treated like a VIP. If you would like the help of a concierge who can get you into any club you like and organize your dayclub experience, call us here at Vegas Party People at 702-374-0356.
12 Essential Tips for Las Vegas Day Clubs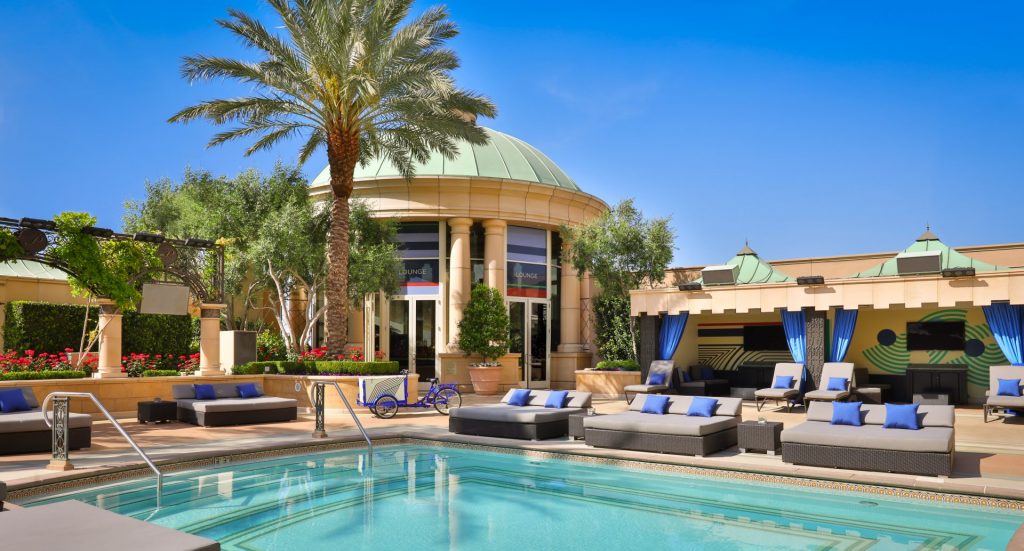 Dayclubs sell out fast on the Vegas strip so be sure to get your name on the guest list early. You can use a dayclub booking service to get the best deals and also access to secret VIP amenities and packages
Review the different day club scenes to find the best venue for you or work with a booking agent who can take information about your party and recommend the best one. For example, if you want a crazy party then the Foxtail Pool might be the one for you. If you are on your honeymoon, you might prefer the Encore Beach Club where it's a bit more classy.
Decide the type of experience you want at the pool party – regular or VIP. Your concierge (call 702-374-0356) can go over the different options and even help you access special amenities. The main decision is whether you want to book a cabana, bungalow, daybed, chair, or you want to go reservation free.
Make sure to arrive around noon or even a little earlier to secure your poolside spot. If you don't book a cabana, day bed or lounge, you are going to need to stake out a spot with towels and friends.  If you don't want to battle that and want your own spot, we suggest you book a VIP package.
Water, water, water. Drink tons of water the night before your pool party as well as in the morning before. Most places will not let you bring in any liquids, but you are going to need to hydrate while there so budget for that. Most VIP packages include unlimited water and soda.
Leave large bags in your hotel. If you don't reserve a cabana or lounge, you aren't going to have anywhere to keep it. Also, most dayclubs don't allow bags over a certain size or any bags at all. Many of these venues have lockers, but they can cost as much as $50 to use. Better to just leave it in your Vegas hotel or go like a VIP.
Don't bring any liquids or pills. It doesn't matter if the drugs are prescription or you just have saline solution, the dayclub staff are not taking any risks. They will either reject your entrance or toss the items.
Do bring sunscreen and lots of it! That desert sun can be harsh and you will burn a lot faster than you might expect. It's a dry heat too so it might not feel as hot as your humid hometown.
Check the dress code before your pool party. Men are usually required to wear swimwear, a t-shirt, and flip flops or sandals. Men may not wear gym shorts, cargo shorts, or jeans. Gym shoes and baseball caps are not allowed for anyone. Ladies you will want to wear a swimsuit under a sundress or swim cover up along with sandals or flip-flops. Most dayclubs encourage ladies to wear heels and go glam – though opt for a wedge rather than stilettos. Don't forget sunglasses and a sun hat (both optional, but recommended)
Don't bother bringing books or magazines. This is a party. You aren't going to have time for that!
Leave the camera at home. You probably use your phone for snaps, but be careful where you take pictures. Most venues will not allow you to take pix of other guests and even selfies are discouraged. Selfie sticks are prohibited. Given there's no place to stash things unless you go VIP, you might be better off leaving your phone in your hotel room.
Partying all day in the sun takes a toll. No matter how much sunscreen you apply, even if you stay fully hydrated, you'll probably be wiped out by dinner time. Plan on something chill so you have time to recover! We've seen new visitors to Las Vegas plan something expensive and non-refundable the evening after their big day at the pool, forcing them to lose the money they spent on the evening's entertainment, or suffer through the night fatigued. Naps are winners every time so don't be afraid to sneak in some winks if you're tired!
How to Day Club Like a VIP
When you are planning to go to dayclubs, it's important to decide if you want to experience it like a VIP or not. Everyone must get on a guest list, but unless you book with a concierge (702-374-0356) you are going to wait in a long line in the hot sun. Once inside, the place will be packed and without a VIP reservation you will be fighting for a spot to lay your towel down and waiting in long lines to get drinks. A concierge like Vegas Party People can help you access amenities and secret VIP packages which include priority entry, dedicated lounging space, and bottle service.
Bungalow or Cabana?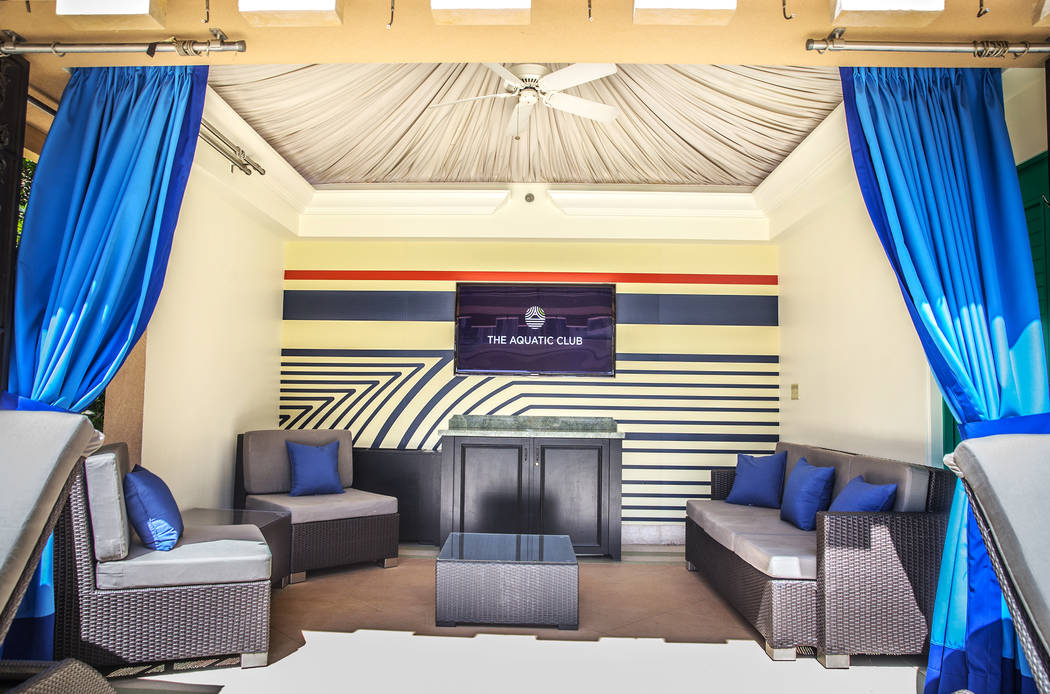 The first decision is whether to get a bungalow or cabana. The nice thing about these options are that they are dedicated structures for you and your party to retreat if the sun or party gets to be too much. It's also a great place to stash your belongings and avoid having things stolen. They all include the entry fee with priority admittance. They come stocked with water or soda as well as some snacks. You can order more food from your dedicated server or butler. No waiting in long lines or waiting for a waitress who is serving 20 people. The cabana usually has a couch or two, TV and provides space for you to change. Bungalows step it up a bit more with a private bathroom and more space to lounge. Many dayclubs give access to private pools that are less crowded and most bungalows come with their own dipping pool or infinity pool. If you are a group of 6 or more, either a bungalow or cabana is a great option. For bachelor and bachelorette parties it's a must. As part of the package, there are options for bottle service. If you plan to be there for 4-6 hours, plan on a bottle per person in your party.
Daybeds
If a day club bungalow or cabana is out of your range or your party is small, you can book a daybed which is a designated queen-sized lounger for you and your guests. They include the dayclub entrance fee
and also come with bottle service and a higher touch server. Most offer shade and can serve as a great meeting place for your guests. If you have a larger party for a bachelorette or bachelor party book a few next to each other.
Booths & Banquettes
Similar to daybeds, many dayclubs have booths, banquettes or nooks in the poolside space. They are usually just a poolside couch that accommodates a lot of people along with tables and a more attentive server. They may or may not have shade and you will be sitting up (or on someone's lap) rather than laying in the sun. However, they are great meeting places for your bachelor or bachelorette party and they usually have tables and a more attentive server. They all offer bottle service as well.
Chairs & Loungers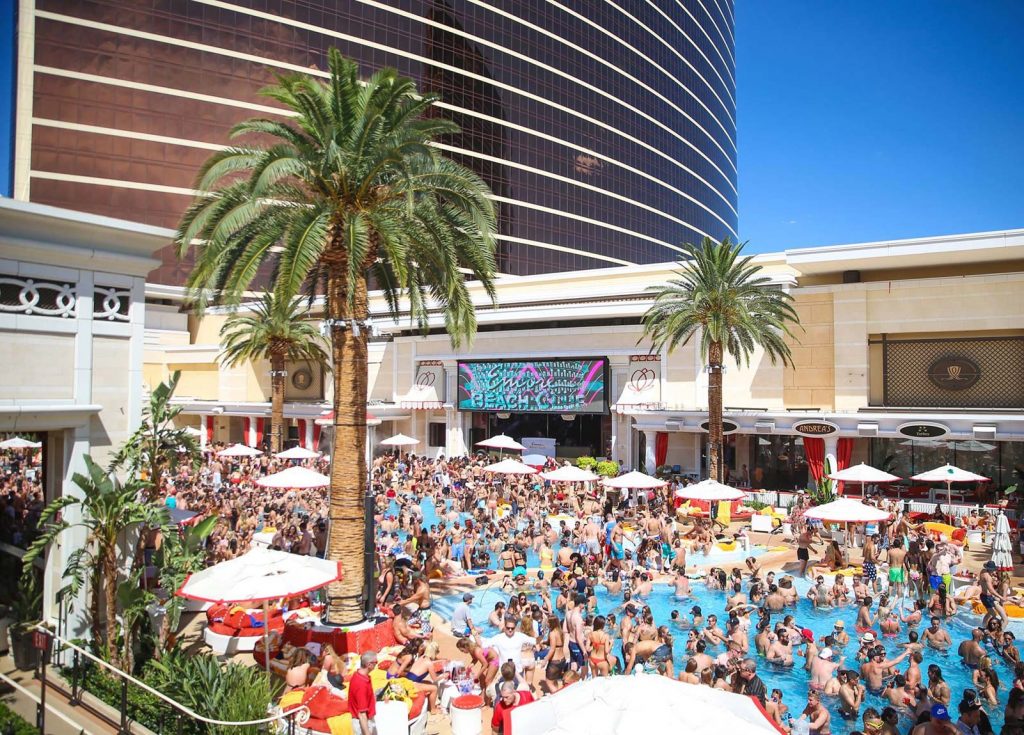 At a minimum, consider reserving chairs with bottle service. This way you will at least have a place for your party to meet and a place to sit down. Otherwise, you will be trying to camp out somewhere pool side on the concrete.
Top 5 Vegas DayClubs
Daylight Beach Club
3950 S Las Vegas Blvd
Las Vegas, NV 89119
(702) 632-4700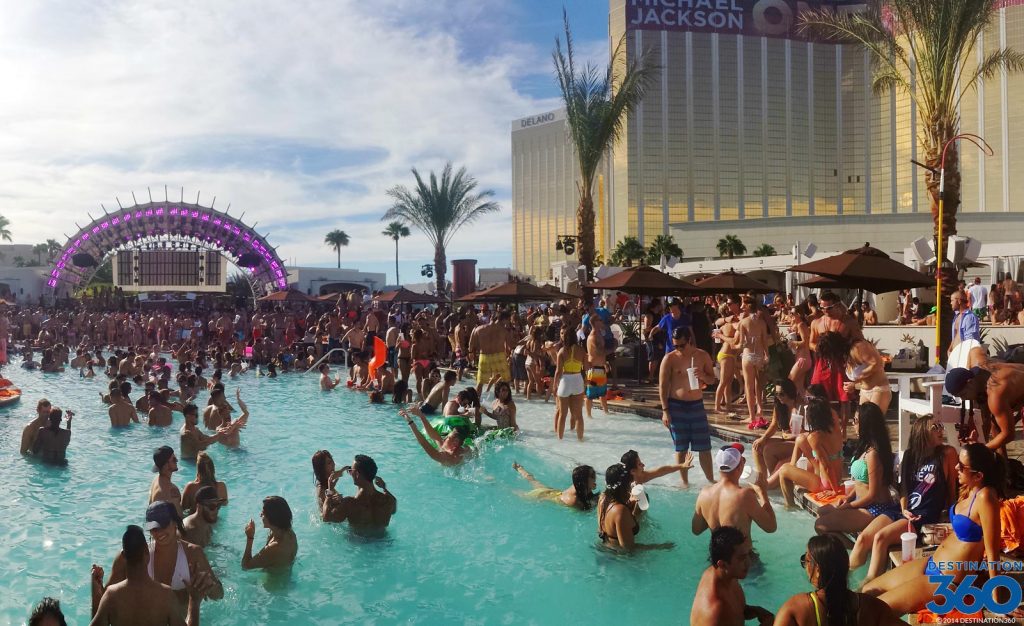 Part of Mandalay Bay, the Daylight Beach Club is over 50,000 square feet with a 4,400 square foot main pool and 2 VIP pools for cabana guests. If you want the VIP experience, you can access two private ultra-VIP bungalows with private dipping pools, VIP cabanas, private banquettes or VIP daybeds. This venue serves amazing cocktails including their famous frozen rose. The entertainment schedule is always amazing with acts like Ludacris, Rick Ross, and DJ Duke Dumont on tap for the upcoming season.
---
Encore Beach Club
3131 S Las Vegas Blvd
Las Vegas, NV 89109
(702) 770-7300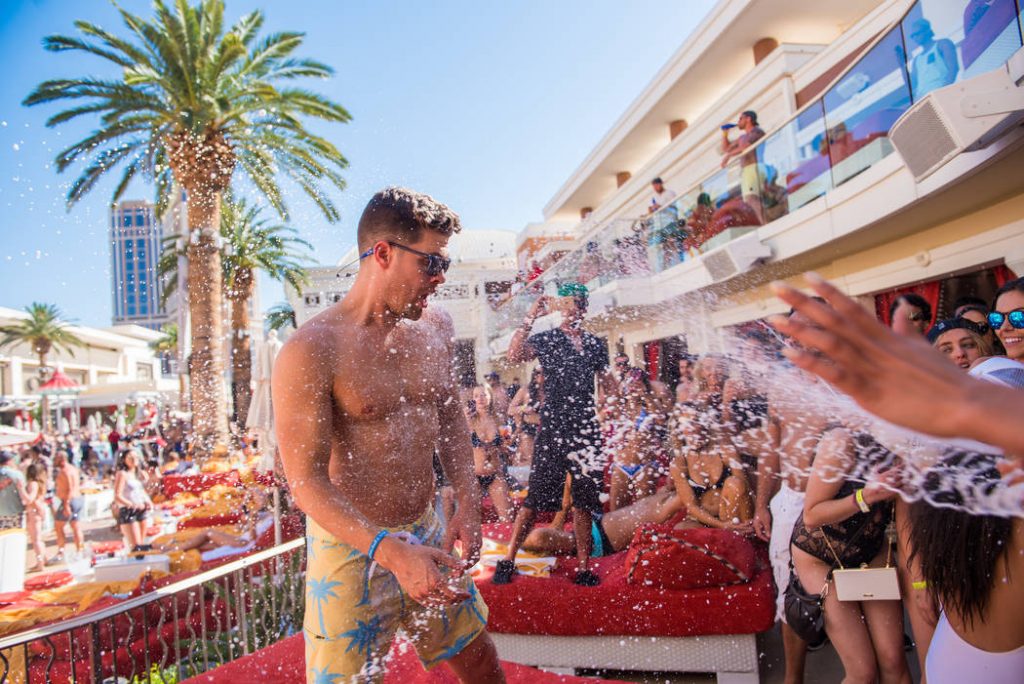 It's no surprise that the Wynn Hotel would offer a luxurious dayclub option. If you are looking for something more classy and to avoid 22 year old shenanigans, this might be your best bet. With 50,000 square feet devoted to the beach club, this dayclub was named 2018 Las Vegs Day Club of the Year. They attract top tier talent like Alesso, The Chainsmokers, Diplo, David Guetta, & Major Lazer. For the VIP, they offer cabanas and bungalows. They also run a night swim party on Thursdays.
---
Bare Pool Lounge
3400 S Las Vegas Blvd
Las Vegas, NV 89109
(702) 693-8300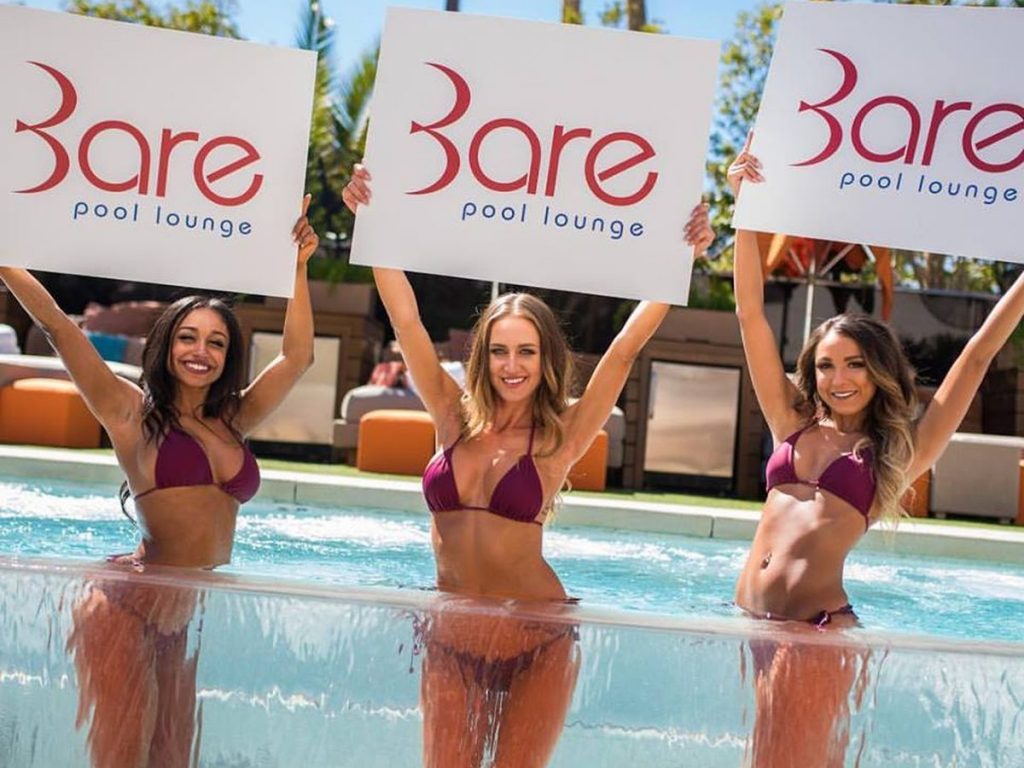 No list of dayclubs is complete without mentioning the Bare Pool Lounge at the Mirage Hotel. It's notable due to the topless sunbathing. Just don't try to snap any photos with your iphone or you will get booted out. The space is a bit more intimate at only 14,000 square feet. In addition to the main pool, they have VIP experiences with cabanas, day beds, and private dipping pools.
---
3595 S Las Vegas Blvd
Las Vegas, NV 89109
(702) 777-3800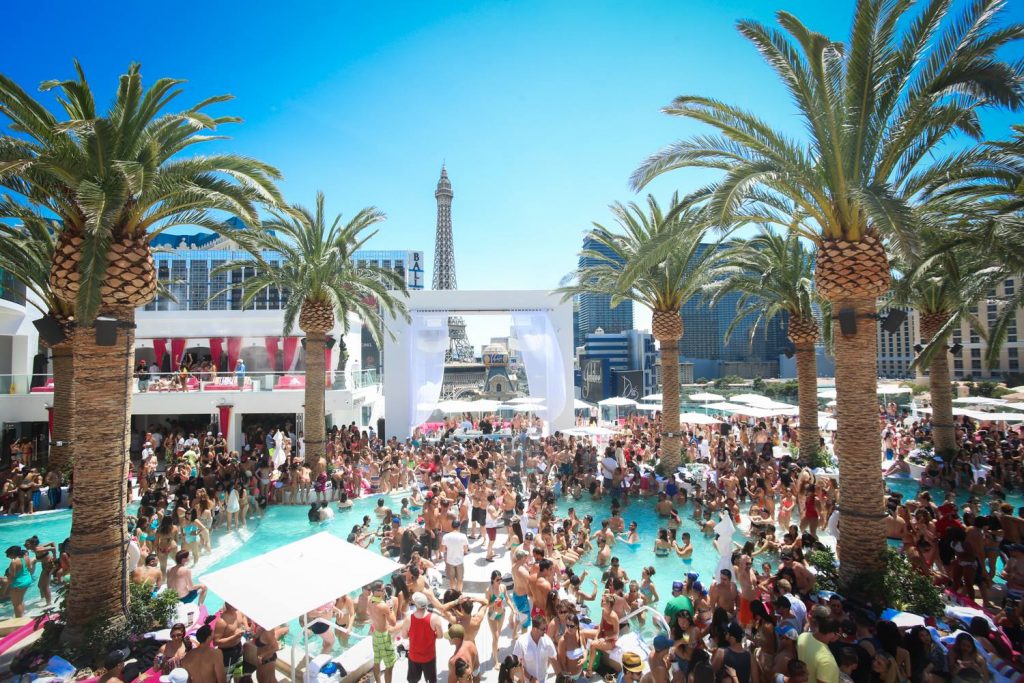 This is the only rooftop dayclub in Vegas with gorgeous views of the Strip. It is the daytime version of the sought-after Drai's Nightclub located in The Cromwell. It's multi-level with over 25,000 square feet of space with 8 pools as well as VIP amenities like cabanas and tables with bottle service. Their entertainment calendar tends to attract top hip-hop artists as well as DJs known in the EDM and dance party space.
---
Rehab Beach Club – Closed
4455 Paradise Rd
Las Vegas, NV 89169
(702) 693-5505
Unfortunately, this day club has closed. The OG of dayclubs, the Rehab Beach Club is located at the Hard Rock Hotel and is probably one of the craziest day clubs in Vegas and perfect for a 20-something bachelor or bachelorette party. It started the trend in 2003 and has been partying hard since. It was once even part of a reality show on TruTv. The space is massive and packed, so plan ahead and learn how to go as a VIP. They have several pools and a waterslide as well as a real sandy beach. They have had appearances from the likes of DJ Pauly D, Flo Rida, and Laidback Luke.
---
Foxtail Pool
2535 S Las Vegas Blvd
Las Vegas, NV 89109
(702) 761-7621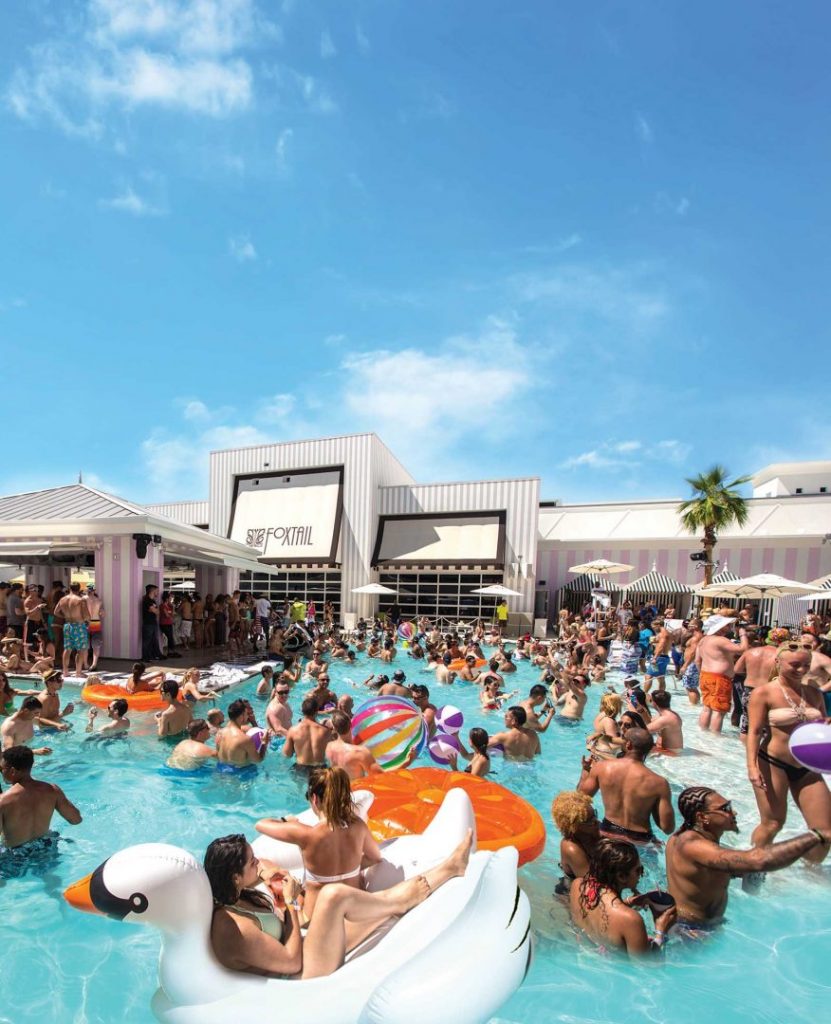 This is the place to go if you want a wild, twenty-something party. With a 40,000 square foot space, the SLS Las Vegas' dayclub has sun beds and Cabanas if you are looking for a more VIP experience. They have daily DJs and spin a lot of EDM and hip hop.
---
3025 Sammy Davis Jr Dr #200
Las Vegas, NV 89109
(702) 472-8844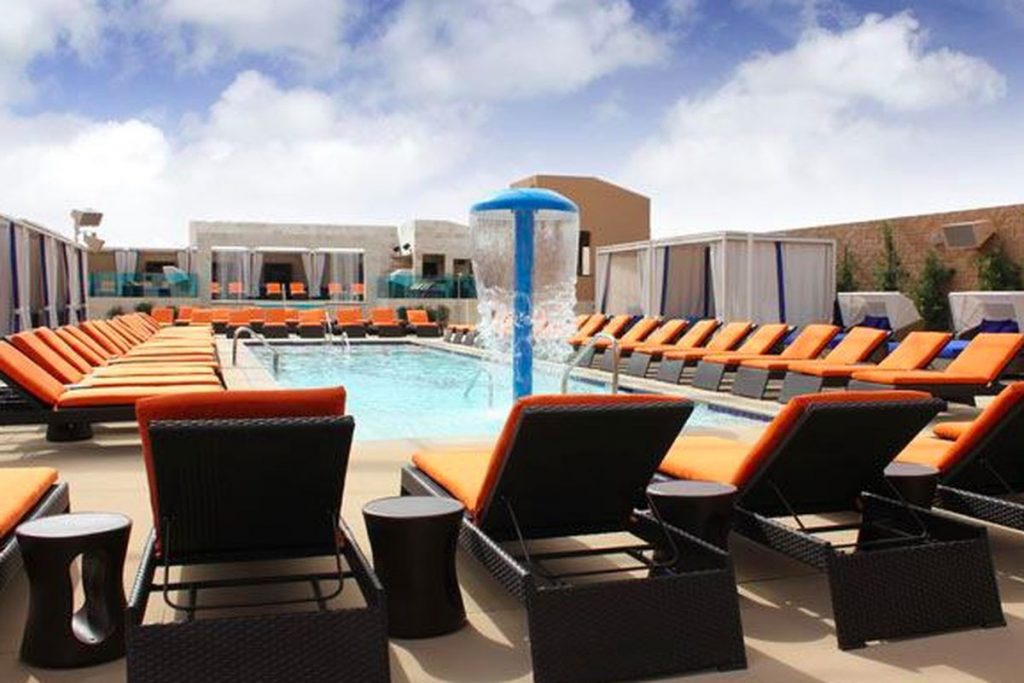 The Sapphire is one of the largest gentleman's clubs in Las Vegas and they run a dayclub next door where waitresses are topless and guests are encouraged to sun bathe the European way. If you want to go VIP they have daybeds, Cabanas and even private plunge pools. It's a great destination for a bachelor or bachelorette party. It's popular among social media and reality tv celebrities. You just might see a Kardashian, Teen Mom, Real Housewife or Dennis Rodman.
---
Go Pool
3555 S Las Vegas Blvd
Las Vegas, NV 89109
(702) 697-2888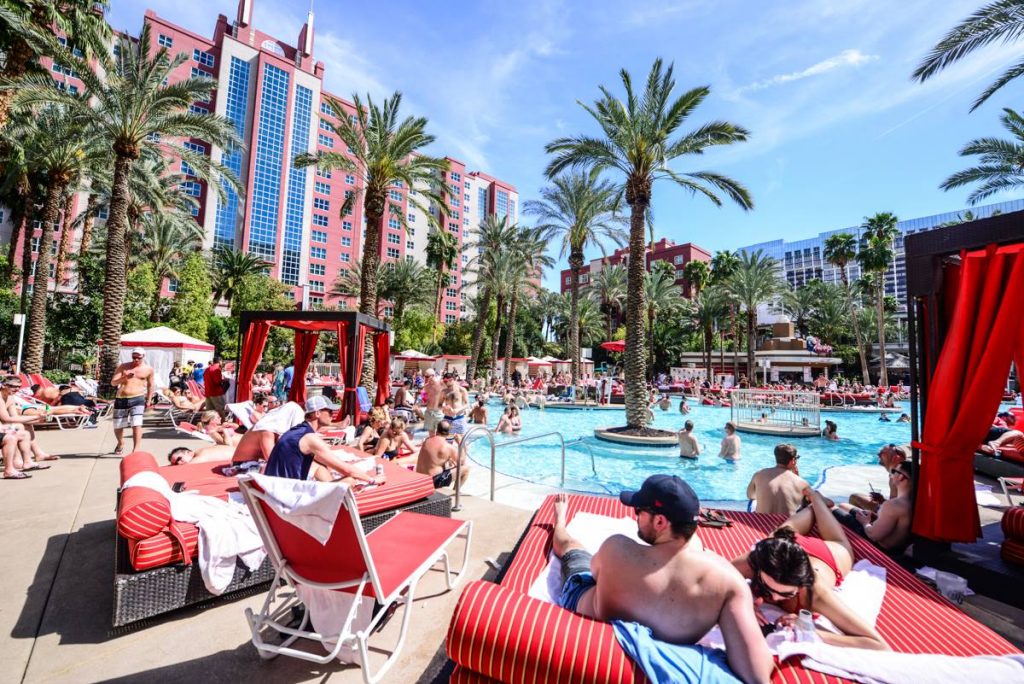 Located at the Flamingo Hotel, the oldest Las Vegas Strip hotel, runs a wild and crazy pool party every day of the week. Set on a 15-acre tropical retreat, it features 2 pools with a water slide, waterfall and grotto. Hotel guests get free entry and admission is only $15 for guests of any other Caesar's properties. They attract some top tier entertainers including Ja Rool and Charlie Puth.
---
Marquee Nightclub & Dayclub
3708 S Las Vegas Blvd
Las Vegas, NV 89109
(702) 333-9000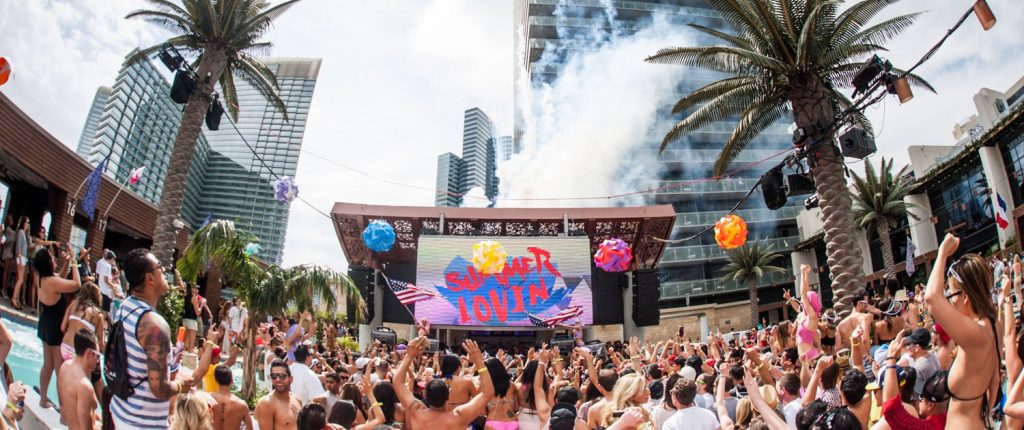 Located at the Cosmopolitan of Las Vegas, this rooftop day club is 22,000 square feet. It has the packed party in the main area and a more relaxed atmosphere in the Cabana area. Cabanas have access to private pools and hot tubs for a truly VIP experience. It's a perfect mix – you can step out into the party when you are ready to dance and step out to you own little retreat when you are ready to lounge and talk. The crowd is young and the DJs are fresh with the usual EDM and hip hop.
---
Liquid Pool Lounge
3730 S Las Vegas Blvd
Las Vegas, NV 89109
(702) 590-9979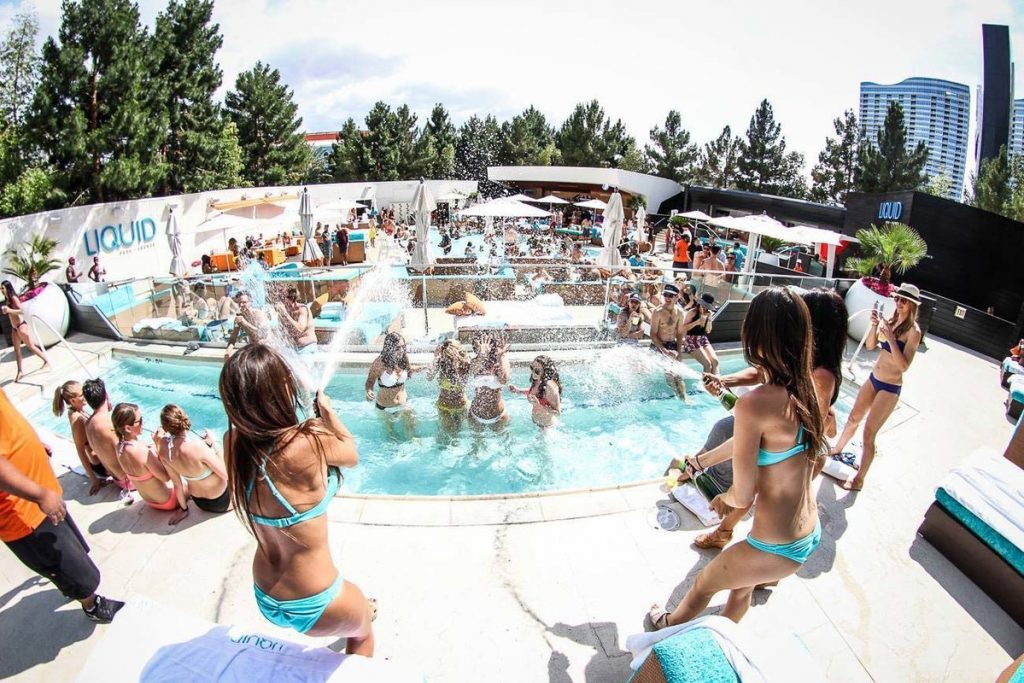 With two pools and several bars, this day club has everything you need to enjoy the party. The food is excellent with fish tacos and shrimp. Try a signature mojito or one of the watermelon cocktails. You can find day beds, banquettes and cabanas if you want a retreat from the sun and crowds. Located at the Aria Hotel and open Wednesday through Sunday.
---
3799 S Las Vegas Blvd
Las Vegas, NV 89109
(702) 891-3563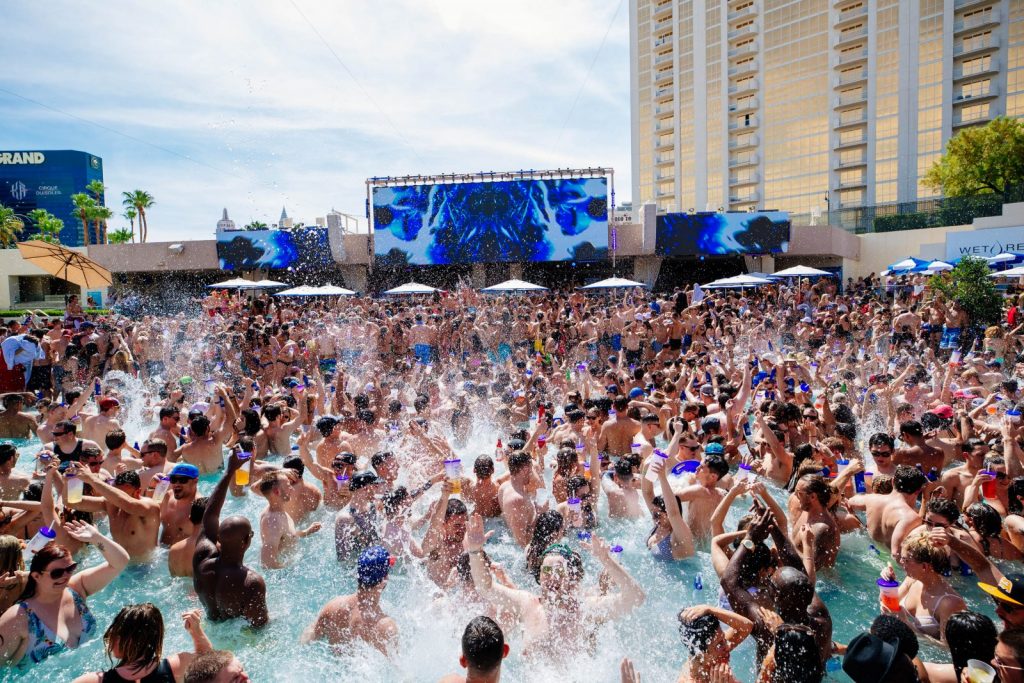 This dayclub is best known for its top tier entertainment with DJs such as Martin Garrix, DJ Irie, Tiesto, & Tyga. The space is over 54,000 square feet and features a 2,500 square foot lounge just for dancing. They have bungalows (with private pools + bathrooms, cabanas, deck tables and day beds available. There are multiple pools and they are all saltwater. Wet Republic is located the MGM Grand Hotel and open daily.
---
Tao Beach
3377 S Las Vegas Blvd
Las Vegas, NV 89109
(702) 388-8338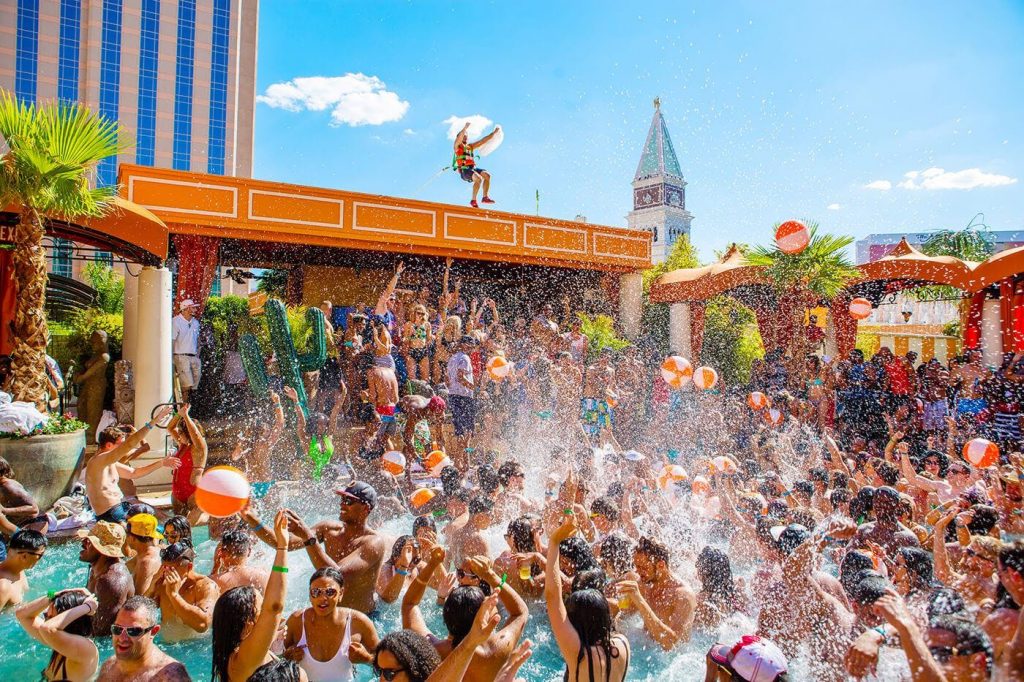 Tao beach is the daytime version of the hip Tao Nightclub. It became famous when featured in Lil Jon's music video 'shots'. The pool area is classy and you can rent a cabana for a VIP experience. They host weekly Playboy Friday events with bunny servers and gift bags.
Can't decide from this list of dayclubs? Want someone to arrange it all for you? Contact us here at Vegas Party People and one of our experienced concierges will get you the best deals and exclusive access to amenities. Call 702-374-0356.